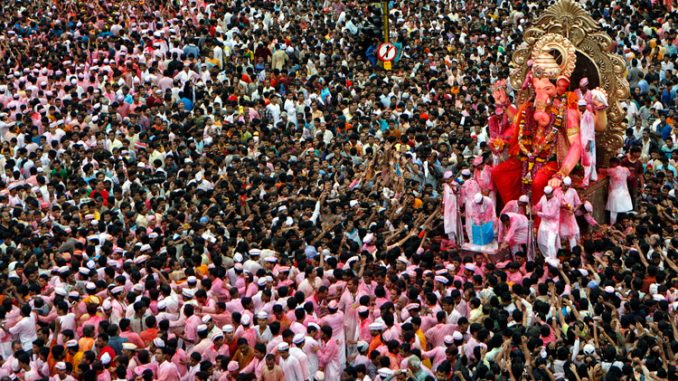 Ganesha is regarded as the patron deity and the God of wisdom. The preparations to celebrate Ganesh Utsav starts during the months of August to September. It is considered as the auspicious day when Lord Ganesh was born and begins with great enthusiasm all over the state.
The festival is celebrated for 11 days and it starts off with setting the statue of beautifully sculpted Ganesha idols in homes and mandaps which is a temporarily made-up stage). The first day is called 'Ganesh Chaturthi'. The mandap is colorfully decorated, depicting religious themes or current events.
The Ganesh idols are worshiped with families and friends. Many cultural events are organized and people participate in them with keen interest. The last day of the festival is called 'Visarjan' wherein after ten days the time comes to bid farewell to the beloved God. The farewell is done by submerging the Ganesh idols in the river.
The size of the Ganesh idols ranges from 3/4th of an inch to over 25 feet. The shape of the idols also varies depending upon which form the mandals want to depict. There is no evidence in case of region other than Maharashtra that the installed idol was kept or could be kept for longer period.
Grand Celebration in Pune and Mumbai
Pune and Mumbai is known as the hub of Ganesh Chatuthi. People from all over the country specially visit these two districts to participate in the Festival. In Maharashtra, usually the day of Ganesh Chaturthi and Visarjan is declared as a holiday, mainly due to rush and traffic on the roads. A mandap is erected at almost each street corner in the city.
It takes days to make the Ganesh idols and made quite huge. Each year the makers used to increase the height. But now the Government has passed a rule wherein the height of the statue cannot exceed a certain height. This has been done to prevent the hazardous pollution of public water bodies.
Visarjan
The disposal of worshiped idol is to be made preferably in the sea or running stream or may be made in pond or well, which must be other than one's own. The immersion of the worshiped image takes place not earlier than the afternoon of the second day all over Maharashtra. The immersion period could be a day and a half or five or a higher number of odd days later until the last day of bright fourteenth, which is known as Anant Chaturdashi. Now-a-days, eco-friendly Ganesh idols are being made. The material used to make the idols are harmless and easily dissolves in water.