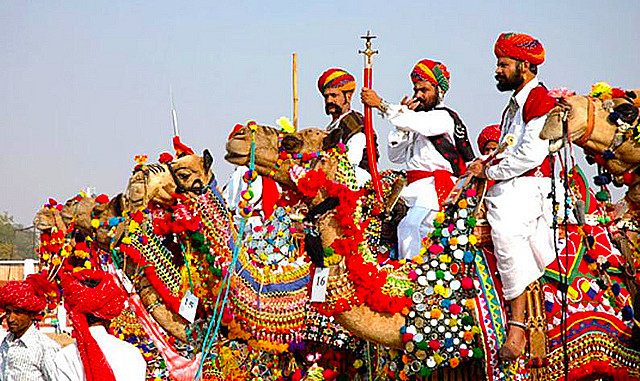 November is the time when the famous Pushkar Camel Fair takes place in the beautiful state of Rajasthan in India. The Pushkar Camel Fair is the world's largest camel fair and is a colourful event that lasts for seven days. Pushkar Fair attracts people from all over Rajasthan, as well as tourists from across India and the world, who flock to witness this mega event, and the range of camels and cattle on display.
The last day of the fair coincides with the Kartik Purnima, the period of the autumn full moon. Thousands of devotees come to bathe in the holy lake of Pushakar, where mythology has it that Lord Brahma, the Hindu Creator, had performed a Yagna and where a lake had emerged, at the spot where a lotus fell from His hand.
Pushkar Camel Festival is a fair that combines worship and trade and even acts a meeting place for arranging marriages. So when one participates in this fair, it becomes mandatory that he stays for five days at Pushkar. So, after performing puja and taking holy dips, people engage themselves trading animals and wares, thus utilizing the five days to the maximum.
The sale of animals is quite an interesting affair, as the animals are made to display their skills so that the owner gets a good bargain. Exciting camel-cart races and cultural events are the highlights of the Pushkar Camel Festival.
The fair has diversified stalls marketing everything from silver jewellery to clothes to tattoos. Ferris wheels and other circus attractions are also hugely popular here. The city also has a large number of eateries selling everything from falafel, pastas and pizzas to veritable Rajasthani cuisine. As the sand descends in the night the sounds of folk music, storytellers, dances and partying carries well out into the desert.
The encompassing warmth of the Rajasthani people makes the fair, over the top with cultural events, that locals, traders, pilgrims and tourists mingle and celebrate together. If you are a traveler here don't be astonished to find yourself dressed in a colourful costume, dancing, playing games and competing at games you may have never even have heard of. Travelers are also given concessional rates on camels if they'd like to buy one.
On the last night of the fair the waters of the lake are beautified with thousands of lamps and flowers floating on its surface. A beautiful and beseeming end to this vivid celebration.